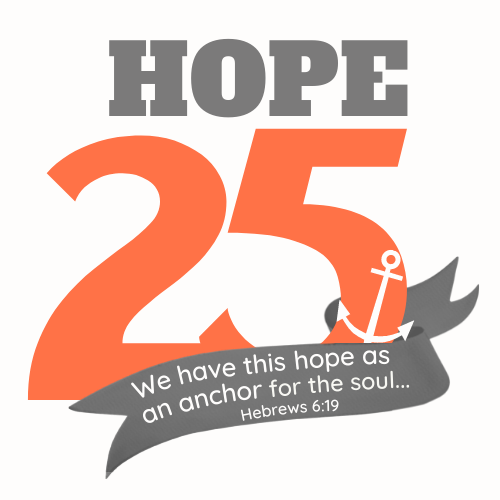 All members and friends of Hope Lutheran Church are invited to join the congregation in celebrating our 25th Anniversary. We are highlighting the months of December 2021 through May 2022 for our celebration, in commemoration of the first worship service of the Wake Forest Lutheran Mission in December 1996 and the church's Charter Sunday in May 1997. We rejoice at the countless gifts of grace God has shared with the people of Hope through the past years, even as we recommit ourselves to carrying on our mission in the present and future.
The next 25th Anniversary-themed worship services will take place on February 5-6 (guest preacher former Associate Pastor Tab Cosgrove), April 3-4, and May 14-15 (special preacher Pastor Emeritus Preston Wagner). Watch for more information about special 25th Anniversary fellowship events to take place at Hope next May.
In gratitude for God's blessings, you are welcome to make a special 25th Anniversary Thank-Offering, over and above regular and year-end offerings. Gifts and contributions will establish a new "Silver Mission Fund" at Hope, to provide annual grants for mission initiatives in our congregation, circuit, and district. Feel free to contribute once, or monthly throughout the Anniversary celebration period. Please mark your gift "Anniversary Thank-Offering."